📰 Community Newsletter- December Edition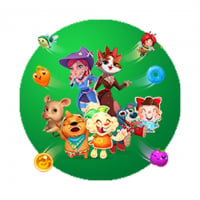 CommunityTeam
Posts: 1,951
System
Dear King Community,
...the freshest news in the Kingdom at one glance!
📰 On the front page...
Are you part of the Kingdom? This month we're talking about why it is a great idea to keep your games connected via a King account, and how to create one. Learn more about it HERE and get your badge to celebrate you're part of the Kingdom HERE !
👑 News from the different Kingdoms 
🍬 Candy Crush Saga
The Swedish Fish got a new look! Head over to the Candy Crush Saga Community to learn more- and don't forget to share your thoughts on it HERE !
🥤 Candy Crush Soda Saga
Meet the Player! Have you already read all 3 sodalicious interviews with our featured players? You can find them HERE !
💫 In the spotlight this month...
The renewed Pet Rescue Saga Community! Have you been to our pet-tastic forum lately? It's been totally renewed and has some pawsome new areas and threads for all pet lovers! Check it out HERE!
🎬Did you know...
...that there's a new Winter Petopia about to start? Petopia is the pawsome city you can build for all your rescued puppies and kitties. And the Winter edition, with lots of winter fun, will be absolutely purrfect, you'll see! Stay tuned HERE!
🗞 In the Community Hub
🎨 Art Challenges! Not one, but two Art Challenges this month:
We'd love to see your creations, so don't be shy!
 🎖️ Chat with us and get your Badge of the Month!
If you could instantly become an expert in something, what would you like it to be? Comment HERE and this wintery badge will be yours! 👇️
That's the end of the December newsletter- have fun and see you around!