(ENDED) Win 30 Gold Bars - Which Misty do you prefer? 🦄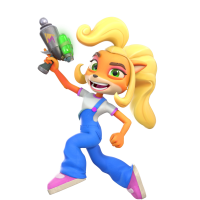 QueenMia
Posts: 12,737
Community Manager
🌟 No account yet? Register here in just 2 seconds 🍭
Hello Friends Community!
I hope you are all well.
I know from a previous contest that "normal" Yeti and Yeti Galaxy seem to be your favourite Yeti costumes... So now, I was wondering: Which Misty Costume do you like the most?
👇 Let us know which Misty you prefer by voting and commenting your reason for your vote below 👇
5 lucky winners will be pick randomly amongst those who voted and commented and receive 30 Gold bars each! 
🌟How to participate?
👉Select your favourite Misty and submit your vote at the bottom at this page.
👉Comment below to let us know why it's your favourite!
Don't forget to comment to validate your entry to the contest!
Good luck everyone and stay safe 🍒
You have until the Monday 20th of April to participate.
Terms and Conditions here.
(ENDED) Win 30 Gold Bars - Which Misty do you prefer? 🦄
This is a public poll: others will see what you voted for.
No account yet?
Sign up here i
n 2 seconds!
Leave a Comment