🍭 Win Gold Bars for your CC Friends Saga - Community Springtime Celebration Contest! (finished)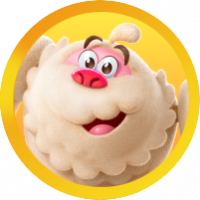 [Deleted User]
Posts: 11,819
Level 5
Want to participate? Sign up HERE in 2 seconds!
Welcome to the Community Springtime Celebration Contest! 🌷 This is one of seven games that are part of a Community wide contest event.
Spring is now in full swing & our friends from Friends are excited for the new season. They know their peeps around the Kingdom are preparing a special party to celebrate and, of course, would not want to miss it.
Mr. Toffee is in charge of picking up the Friends crew and driving them to the party so he grabs the list that Dachs sent him with the names of those he has to pick up. As he is reading through it & planning his itinerary, he realizes something is wrong...
It looks like Bubblegum Troll has been up to his old mischievous self & has scrambled the letters of the names on the list as well as thrown some of his sweet marmalade to add devilry to the confusion!
Please, help Mr. Toffee by unscrambling the words so he knows who he has to pick up. Also, the letters that fall in each of the blue boxes will make the magic word that our friends will use to get into the party.
➽ Once you have the words, please post them using the Spoiler box so other players get a chance to figure the answer on their own.
🍭 5 players with the correct answer will be randomly chosen to win 20 GB for their Candy Crush Friends Saga game. 
Everyone can participate in this Community Wide event but please let us know if you don't play this game, so the 20 GBs can be awarded to players of this game.
🍭 Once you have all seven words, go to the Community Hub HERE and write the words in the proper spots to reveal the special message. Everyone who participates and posts their answer in the Community Hub will win this special badge and 3 very lucky people will win 50 Gold Bars in a game of their choice!
Contest runs until 1500 CET 9 April 2021.
Terms & Conditions here.
Leave a Comment