🎃
Halloween in Candy Crush Saga!
Find all details
HERE
✨
All Stars US!
Find all info and claim your star badge
HERE
Welcome to the Candy Community! Here's all you need to know about the Candy Crush Forum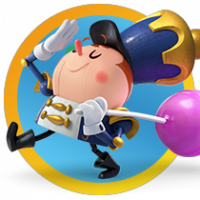 Pounawea
Posts: 4,006
Community Manager
No account yet? Welcome to the sweetest Community! 
Would you like to participate, share your feedback and win Gold Bars?
Sign up
to our forum
HERE
in 2 seconds!

🌟 🌟


Hi and welcome to the Candy Crush Saga Community!
Thanks for coming and don't be shy, this is your home! We are a group of players helping each other make the most out of the game. We are happy to have you here and, once again, 
welcome to our vibrant Community
. You'll help us make this place 
Sweeter than ever!
In case you're wondering what this is about, how to behave and where to find the information you're looking for, you're in the right place! You will find below a few useful tips and tricks as well as a lot of information about the Community and the Forums below. 
Why not start by saying hi and introducing yourself 
here
?  
Looking for information about the game or how to solve a technical issue? Check our FAQ, the answer is certainly there!

🏆🥇Win Gold Bars and exclusive Community badges HERE!

Still need help? Check if other players have a solution for you or let us know in the Support section.
You want to chat and share some tips on how to pass those tricky levels? Express yourself in the Discussions tab!
 Want to discover about our exciting Superstar Programme, explore our Superstar Corner. 


Please read the following guidelines before posting in the forums - Please note that the Forums are in English only.

. 
House Rules
Code of Conduct or How to behave in the Community. 
. 
Introduce yourself
Meet the team and introduce yourself. Don't be shy, we're all friends here.
. 
How-to guide
Get started: update your profile, start a discussion and so on!
.
Community Structure
Find out where to go to find the answer to your question or start a conversation
. 
Want to become a Super Star?
Super Stars are helping us make the Community a sweet place. Check our program and see if you've got what it takes!
. 
E
arning Points and Badges
Discover all you can collect with your achievements and become a King Legend!
And you thought that was it? No no. You can earn Sweet prizes with your points! Read more
here!
Also: Become a Sweet Legend with 10 000 comments and points, then a Royal Legend with 25 000 comments and points and finally... an ULTIMATE LEGEND by reaching 50 000 points and making 50 000 comments!
Who will be our first Ultimate Legend?! Now go and enjoy your time here and remember, the more helpful and informative your posts, the more stars you will have
Happy posting!
Now a little about us


I am
@Pounawea
, the Community Manager. You'll see me around sharing news, taking part in conversations and throwing some sweet gifts from time to time. 
You might also see 
Xarly
,
QueenMia
,
@Crazy
Cat Lad and
@QueenB
around. Those guys are with me and will jump in whenever it's needed. 
We also have great 
Superstars
 kindly helping out. You'll recognize them by the 3 stars on their profile. They're the sweetest, please be nice to them and they'll go the extra mile to help you out 
Thanks for reading through. Now sit back, relax and enjoy the sweetest Community! 
Your Community Team
This discussion has been closed.