🚀✨ Reach for the stars with Tiffi! (finished)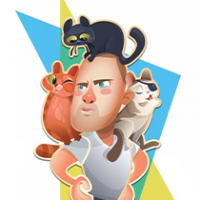 Crazy Cat Lad
Posts: 14,021
Community Manager
👨‍👩‍👦‍👦 New to the Community? Register here in just 2 seconds!
Reach for the stars with Tiffi!
Are you one of the players in Candy Crush Saga that sometimes, or even frequently, hit the current last level in the game? Here's the competition for you!
In Reach the Stars with Tiffi you can collect exclusive badges every week when you reach the current last level in the game.
How to collect the stars and the badges?
Every week when you reach the current last level in the game, post a screenshot of your game map on the page where you can see your avatar that is on the current last level.
For each week when you crushed your way to the end you will get a Tiffi star badge:
Remember to post a screen shot of the whole screen and game map so we can see if you play on W10, Facebook or mobile since the last level varies between platforms.
What the current last level is on your platform this week, please check our Community level update page HERE.
You can collect up to seven star badges during all these weeks, but wait, there's more! 
If you manage to get to the last level ten times or in ten weeks, you'll get this Super Crusher badge and also 10 Gold bars to your game!
Remember that new levels are added to the game every Wednesday (afternoon CET and morning EST), so make sure you post the screenshot before the update to get your badge. 
You have until Tuesday 22 December 11:00 EST to participate and post all screen shots and you'll find terms and conditions here.
This discussion has been closed.