📋 We need your feedback! Re-opening the Chocolate Box Quests🍫 survey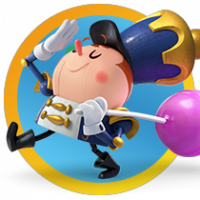 Pounawea
Posts: 3,696
Community Manager
Dear Candy Crushers,
A couple of weeks ago, we asked you to help us with your feedback in regards to the Chocolate Box Quests.
➡️ 📋 Take the survey -> HERE 
This time, we are bringing the same Survey back as we've received messages from community members that would like to participate. We are going to re-open this survey for those of you that couldn't join us last time. 🙂
In this survey, you will find 11 questions, and they are all about different quests that we could be adding to the Chocolate Box in the future.
This survey is in English only and it will take 5 minutes of your time. Your feedback will help us improve the Chocolate Box Quests in Candy Crush Saga and make it even more fun for you!
➡️ 📋 Take the survey -> HERE 
Thank you so much in advance for participating! We look forward to reading all your feedback. 
Have a delicious day and see you around the forum. 🍬 🍬
P.S.: You are not required to have any Gmail account to fill in the survey.
👨‍👩‍👦‍👦   New to the Community? Sign up HERE in 2 seconds!