🍬⏳️ Mr Toffee's Memory Lane - Level 2000!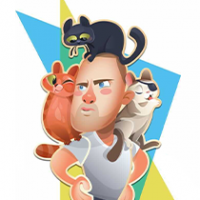 Crazy Cat Lad
Posts: 10,501
Community Manager
👨‍👩‍👦‍👦 New to the Community? Register here in just 2 seconds.
We are heading towards the ten thousand level in Candy Crush Saga. A huge milestone in the game's history!
Before we start the ten thousand sugar rush, let's continue the recap of the game's journey through the years by taking a trip in Mr Toffee's Memory Lane.
Level 2000
The second millennial level was released in September 2016. This was celebrated in the game and also with this commercial on TV:
Earlier the same year the Paintbrush got re-introduced. It had been removed some time ago and now came back in a new updated design!
Candy Crush Jelly Saga, the second sequel of the Candy Crush games had also the premiere when the original candies hit 2000 levels.
Candy Crush Saga was also introduced as an app on Windows 10 this year!
In 2016 we also said good bye to two things.
The Toffee Tornado that didn't take us by storm, swished away from the game.
Odus and his Dreamworld levels did also the last moon struck this year. Take a look at this old video with Odus in Dreamworld:
Let's be nostalgic and replay level 2000!
Play level 2000 and share your score by posting a screenshot of the 'Level completed' message here on the page.
Do you remember what you did in September 2016? Were you already at level 2000 in the game that the year? If you do, please also share your memories in your comment.
All players shared their score from level 2000 will get Mr Toffee's Level 2000 Memories badge. One randomly picked player will also win the Party Booster next Monday.
You have until 21 June 06:00 EST/ 12:00 CET to post the screenshot and win the Party Booster. The 31 August 2021 is the last day to claim the badge.
Mr Toffee's Memory Lane level 1000 HERE!