🏃
Candy Spring Race!
Collect badges and win Gold Bars
HERE!
❓️
Can you crack the Candy Crush code language?
Win Gold Bars if you can
HERE!
🐨👸💃💪
What Candy Crush player are you?
Find out and claim your personal badge
HERE!
🍬 Favorite things! Share your fav candy and get a sweet badge!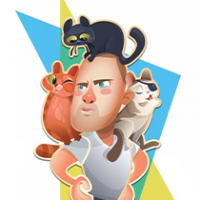 Crazy Cat Lad
Posts: 13,472
Community Manager
👨‍👩‍👦‍👦 New to the Community? Register here in just 2 seconds.
Candy Crush player's favourite things!
Summer 2021 is here and let's make this summer the sweetest and best summer ever by sharing our favorite things this summer.
This first week, let us know what your favorite candy is.
A pic says more than thousand words, so please share a pic and let us know why you love that specific candy.
All players that share their favorite yumyums, will get this Favorite Candy badge:
🎵 Share your favorite Music HERE!
This discussion has been closed.