🏆️💎 Master Trophy Challenge - New brilliant badges to claim! (finished)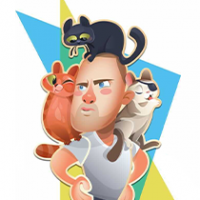 Crazy Cat Lad
Posts: 11,431
Community Manager
👨‍👩‍👦‍👦 New to the Community? Register here in just 2 seconds.
Welcome to the Candy Crush Saga Master Trophy challenge!
If you are a master of collecting the trophies in the game, now you'll have the chance to show your trophy skills in the Community by getting one, two, three or even four of these new Master Trophy badges.
Simply collect points in the challenge by playing the game and winning trophies after completed episodes.
How do I enter the challenge?
Enter the challenge by posting a screenshot of your current collected trophies in the game. A screenshot of the following in the game:
After entering the challenge, keep playing the game and while you keep collecting more trophies you will also collect points in the challenge.
Every new trophy you get, will generate points in this challenge which also will give you up to four badges.
How does the points get counted?
Each new collected trophy will be turned into points in the challenge. The bigger trophy, the more points will it give you.
The trophies will give the following points in this challenge:
Bronze Trophies = 5 points
Silver Trophies = 10 points
Gold Trophies = 15 points
Diamond Trophies = 25 points
How can I claim the badges?
Claim your badge or badges by posting a screenshot of your new status of collected trophies. The points of all new collected trophies will then be summed up and give you up to four badges.
The required amount of points for each badge are:
50 points = Bronze badge
100 points = Silver badge 
150 points = Gold badge
250 points = Diamond badge 
You can post a screenshot of your trophies as many times as you wish during these weeks and claim your badge(s) that you have achieved so far. 
Your amount of trophies in your entry will stay as it is all weeks and you can claim the next badge later on. Meaning, your number of trophies doesn't reset and start counting all over again when posting the next screenshot to claim a badge.
Example:
You can post a screenshot as soon as you have 50 points or more and claim the Bronze badge and then claim the Silver badge later when you have over 100 points. You can also post a screenshot when you have 250 points and claim both Bronze, Silver and Gold badge at the same time. 
@aijaziqbal will host this competition, keep a track on all points from your screenshots and make sure you get all earned badges.
You have until 29 September 2021 06:00 EST/ 12:00 CET to post the screenshots and claim all four badges and you'll find terms and conditions here.