🐢
Candy Creative Season!
More info about the Candylicious events
HERE!
🔮
Magic Shuffler -
New Booster in Candy Crush Saga!
HERE!
🏃
Candy Spring Race!
Collect badges and win Gold Bars
HERE!
🙏🦃 Thanksgiving 2021 - Join the celebration in Candy Crush Community!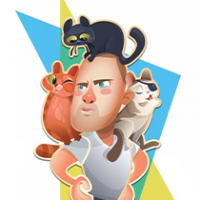 Crazy Cat Lad
Posts: 13,570
Community Manager
Thanksgiving is on Thursday November 25th this year!
Even if you are located somewhere where Thanksgiving is not celebrated, join our Thanksgiving here in Candy Crush Community.
To join our Thanksgiving, tag the player or players who you wanna thank here in the Community.
A player that has helped you out during the year or someone that is simply a sweet Community friend.
All players that joins our celebration will get this Candy Thanksgiving 2021 badge:
👨‍👩‍👦‍👦 New to the Community? Register here in just 2 seconds.
This discussion has been closed.