❄️🔵 Let it snow challenge with Tiffi - Week 2 (ended)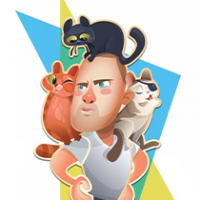 Crazy Cat Lad
Posts: 12,558
Community Manager
Welcome to the 2nd snowy week in Community and the Let it snow challenge with Tiffi!
Let it snow challenge with Tiffi is a 5-week competition where you can collect sweet and snowy badges.
You can find all details about the whole tournament HERE.
What is the quest this week?
This week the quest is to have at least 10 blue snowflake candies and one blue wrapped candy on a level.
You can play any level past level 125 in the game, except the same level as last week. You don't need to complete the level, the task is only to have at least 10 blue snowflake candies and 1 blue wrapped candy on the game board.
❗️❄️ If the snowflakes do not appear in your game of some reason, you can post a screenshot with the regular blue candies.
How to participate? 
Post a screenshot of the game board on this page here to participate and compete in the challenge. 
What can I win?
After completing 1, 3 and 5 of the quests you will get an exclusive Let it snow badge to your Community profile.
Remember…
...to post your screenshot by 14 December 2021, since when the quest of Week 3 starts, this quest will close and you can no longer participate in Week 2.
You have until Tuesday 14 December 2021 05:00 EST/ 11:00 CET to participate and post all screen shots and you'll find terms and conditions here.
🎁 Find all December events in the game HERE!
👨‍👩‍👦‍👦 New to the Community? Register HERE in just 2 seconds.