🎃👻🍬 Play Trick-or-treat with us and get exclusive badges! (finished)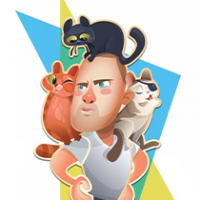 👪 New to the Community? Register here in just 2 seconds!
Halloween is finally here! 
Are you ready to play trick-or-treat with our most loveable characters? 
How to participate?
Look at the pic here below and guess who's trick or treating in Candy Crush Saga and comment the name of the character here below on the thread.
Who did steal all the candies and is trying to get away? Tiffi is shocked, but missed who that was. Can you see who it is?
Who is trick or treating in Candy Crush Saga?
What do I win?
As a treat, you'll receive a spooky badge for figuring out who it is.
But wait! There's more! 
Once you figured out the trick-or-treater here in Candy Crush Saga, head over HERE to find all the trick-or-treaters in the other games! If you can figure out all of them, post all seven names of the trick-or-treaters on the thread HERE. If you got them all them right, you'll receive our haunted Halloween 2020 badge and also get the chance to win a exclusive personal signature or avatar here in Community!
All info and details over HERE and good luck!
You have until Friday 6th of November at 13:00 CET to participate! You can read the Terms and Conditions here.
Comments
This discussion has been closed.