❌ Spoiler Alert! Do not read!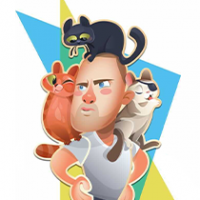 Crazy Cat Lad
Posts: 9,723
Community Manager
👨‍👩‍👦‍👦 New to the Community? Register here in just 2 seconds.
A lot of new things are coming to Candy Crush Saga!
Many of them are still in the making, but here's a sneak peek of what's on the way from the Candy Factory.
Something Jellylicious is coming to Candy Crush Saga!
It's still top secret, but we've heard that this secret leaked out already from the Candy Kingdom.
What do you think it is?
What mechanics will it have?
...and what is the name of this new game feature?
Tiffi is getting her garden ready for the summer this spring!
She will need your help though to save the garden from something sticky.
What do you think her garden has got covered in that she needs your help to get rid of?
What do you think this event will be called?
Do you think you'll get Tiffi's garden in the perfect sweet condition before the summer?
All good things are three, as you know!
This new feature is still top secret and still in the making in the Candy Factory.
We can give these three clues though to the left.
What do you think it will be?
What's the flavour?
What will this new feature do?