I can't send nor receive lives via Facebook 👉 Update your game! More info
HERE!
⭐️ ⭐️ Candy Crush All Stars Tournament! Who'll be the UK's top Crusher?!
HERE!
🍬 🗳️ What's your favourite Candy Crush Saga challenge?
HERE!
/ / 🍬 Community Poll & feedback for Olivia's Flavour of the Day event
HERE!
🏆🥇 Win Gold Bars and exclusive Community badges
HERE!
King.com website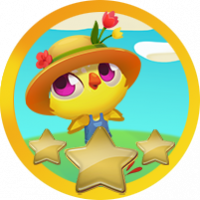 Chicken_Slayer
Posts: 12,805
Superstar
Hi there. My name is Chicken Slayer. I am either a slayer of chickens or a chicken that slays, I don't mind however you want to take it. I have a nice image of the chick as my profile pic on king care. 
So I toodle over to King.com as I cannot get the game to load on Facebook. And find yet again, my alter ego's name is back in place and I have a papa pear icon again.
Everytime I change it, without clearing cookies I might add, the next time I come to log in, its reverted back to papa and my name. I don't want to use my name but it seems like the site really wants me to keep it. Admittedly I don't go over there that often, usually if I need something but even so. Most times I have not even been logged out....
Any ideas?