"Idea" Switch to classic or new Candy Crush Soda layouts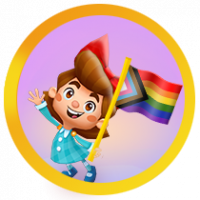 Hi! Here is something that old school Candy Crush Soda players might like! A setting to restore the old map and level backgrounds as well as old character designs.
I suggested this because a lot of players were really upset and mad about the new update in September 2020.
Here is how it works.
First press the settings icon on the top right-hand corner.
Then click the back arrow with the classic Kimmy button. A pop up will appear. It will say, "This button restores the classic layouts before the Candy Town destroyed updated in 2020 are you sure you want to continue?" If the player presses yes, the King loading screen will pop up then after that, you will have the classic appearance. This will apply to, the main menu screen, map selection, old backgrounds, and bring back the old character designs. It won't revert back to the new one unless you press the button again and I will show you how.
If you with to go back to the new layout, press the settings. It will be on the bottom left-hand corner on the old layout.
Then press the right arrow with the new Kimmy button and a popup will appear. It will say, "This button will change the classic layout to the new layout after the newly constructed Candy Town Update. Are you sure you want to continue?" If you press yes, the King and loading text and orange background will show and it will be back to the new layout. I hope my idea comes to Candy Crush Soda!
Thank you!
-legoweatherboy
Playing Candy Crush Soda since 2014 during beta.
Comments
This discussion has been closed.