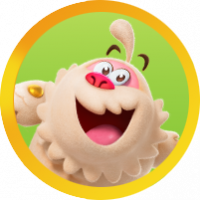 Divax
Level 3
Wife, mom, candy crusher, lover of all things good. Role model - Albert Einstein 😁

Divax

Level 3
I am now a classmate guys 😎😉
About
Username

Divax

Joined

Visits

77

Last Active

Roles

Member

Points

287

Badges

15

Posts

51
Comments

Oh my God, I'm so frustrated with how drastic this game has changed. All the fun stuff are gone. No motivation to play without boosters and gold. There should be rewards for time put in. I'm so angry i can't breath! 

Ok Mr Toffee needs to go. He's an annoying, stingy m*********!!!

Thank you @Xarly I'm happy i got some gold. Congratulations to all the winners. Thank you candy crush team. Keep the competition coming please. Love you all my fellow candy crushers 🤗😍

Looking at the scores and seeing how fierce the competition has gotten, at this point, any amount of gold will do Xarly darling *wink* *wink* 😁😂


I'm reaĺly glad you guys are giving us the opportunity to win gold since it's gotten quite difficult to win gold in BGH. This really rocks. Please keep the competition coming. This was a good level you chose. 


Okay, hopefully my last attempt at winning some gold 🤞


Lol hopefully you stay at second place so you could at least win 30 gold. I'll just be happy with any amount of gold. I have zero boosters left and bubblegum hill is so hard to win these days 😒


I am? Phew, thank God cos i can't seem to get close to that score anymore, and i really need gold 😥


Oh no, I've been ousted. I need to up my game Xarly. Thanks for the heads up! 


Lol did i post too soon?

I replayed and scored higher. I'll keep playing until i get the perfect score to win. For now, I'll leave this here 😁


Omg thanks ❤ @QueenMia


Are you talking about CC or Soda? Here's where i am at CC friends at the moment. 


Absolutely looking forward to the next competition. Hope they have one for soda soon. I'm needing more gold day after day.


Congratulations to all the winners. I missed all the competitions. I've been super busy. Great job guys!