❄️ Farm Pass Frosty Season - How to Play!❄️
HERE
🥇 WIN GOLD!! Guess the score 🥇
HERE
🐥 Beat the Superstar Contest is back in action 🐥
HERE
An "Undo move" button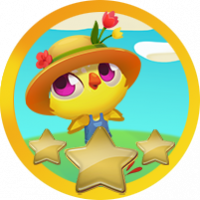 Chicken_Slayer
Posts: 13,230
Superstar
We've all made a move then as soon as our hand has left the mouse, realised it was the stupidest move we could make.
How about a back move button. Even if its for gold so that it saves us using it all the time 😆

You can find out more about our Superstars here

 🍓 Want an undo button? Vote here 🍓

Keep social distancing 🥕 Stay Local no trips to Barnard castle! 🥕 Protect your loved ones 🍓 Do as they say, not as they do

Farm heroes addict slaying chickens since 2013. Wife, mother, youtuber, blogger, co-running a group with Mr slayer, endlessly trying to defeat Rancid while raising younger versions of their dad and I. We have no chance!
Leave a Comment