🌞Farm Pass Summer Season Now Live! 🤽‍♂️🏸🌞
HERE!
👩‍🌾 Become the Farmer of the Month in the Community!🌞😎
HERE!
🥕Join the Cropsie Challenge Tournament & Win Gold Bars and Badges 🥇🥈🥉
HERE!
Join the Farm Heroes Gif Battle 👊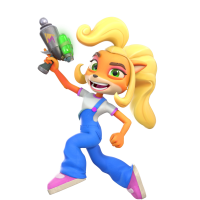 QueenMia
Posts: 12,942
Community Manager
🌽 No account yet? Register here in just 2 seconds! 🥕
Hey guys,
How are you doing?
For those who've seen me around, you probably noticed my love for GIFs... So, naturally, I though...
Let's have some fun together and let's start a GIF Battle! 😅 
👉The idea is simple, just post a funny GIF that somehow (or at least, as much as it can) responds to the previous GIF posted. You're following? 
If you struggle, just post a funny one so at least it adds some fun to the Community 😄
Where to find GIFs? Here, for instance
How to share a GIF? Click on the GIF, then right click and select Copy image. You then simply needs to paste it in your comment and voila! 
Ready?
Then bring it on!
No account yet?
Sign up here i
n 2 seconds!
Leave a Comment