📢 BIG NEWS
Exclusive New Feature 🥕🍏 ☀️
here
| 🥊
Farm Tournament
here
🏆 | Join the
Weekly Race
for badges
here
🏅
Episode 21 Levels 296- 310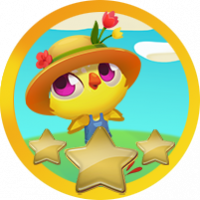 Chicken_Slayer
Posts: 12,913
Superstar
You can find out more about our Superstars here

 🍓 Want an undo button? Vote here 🍓

Keep social distancing 🥕 Stay Local 🥕 Protect your loved ones 

Farm heroes addict slaying chickens since 2013. Wife, mother, youtuber, blogger, co-running a group with Mr slayer, endlessly trying to defeat Rancid while raising younger versions of their dad and I. We have no chance!