If you could add a new feature, what would it be?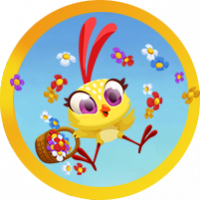 Lady_Choo
Posts: 13,992
Farm Moderator
Good morning everyone.
Well the sun is well and truly hiding from me this morning. Which isn't a bad thing. It means the dust stays hidden and I can play without thinking about what I should be doing heh heh.
So question for you. If you could add a new feature to the game, what would it be?
Its been a while since we had anything majorly new. The last thing added was the weeds. So let your imaginations go wild and tell us what you would add!
Remember its FARM heroes though because I am not sure about the farms the studio have seen 😁
We have black and white sheep so why not a cow to go with the bull. (But not on the same levels!) pails of milk instead of water and milk drops on the board.
What about you? What would you add?


Keep social distancing 🥕 Stay Local no trips to Barnard castle! 🥕 Protect your loved ones 🍓 Hands face space 🍓 
🐥Life's not about counting chickens. Unless they all escape their coop of course! 🐤
New contests! 🍓  Win boosters in the Farm Heroes area 🍓 Win beans 🐤

Farm heroes addict collecting cropsies since 2013. 
Leave a Comment