Pet Carnival is here! Move your hips and win Gold Bars! (finished)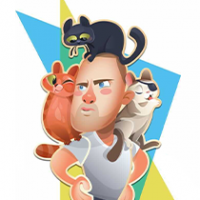 Crazy Cat Lad
Posts: 8,739
Community Manager
It's Carnival time! Whoop! Whoop!
The cats and the piglet have got the party started and celebrating the Carnival!
I bet they are having a pet of a party, but,
what song do you listen to when you're in a pet-tastic mood and move your hips home when nobody is watching?
Post you favourite party or feel good song to get the chance to win Gold Bars. Don't be shy to also post a Youtube video of your song to share your rhythms. Tell us also  why you just luuv that song and why it makes you in a good mood.
Three players with the best motivations for their songs will win 15 Gold Bars each when the Carnival ends.
You have until Friday 13 March 9:00 CET to participate! You can read the Terms and Conditions here.

Don't have a Community account yet? 
Then sign up right here to participate!
Leave a Comment