Pet Rescue Halloween Challenge (finished)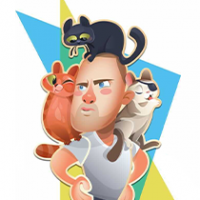 Crazy Cat Lad
Posts: 8,738
Community Manager
🐾 New to the Community? Register here in just 2 seconds!
Pet Rescuers!
We are offering you the chance to have your pet hand drawn by one of our artists, and we will also dress them in a spooky Halloween costume!
If you don't have a Community account yet, then sign up right here to participate in the competition.
Post the name and a photo of your pet here on this Community page to enter the competition, but do not dress them up in costumes yourselves! We love all the world's animals and some don't like to be forced into clothing. Our artists will simply do this in the drawn picture.
On 8th October we will pick a winning photo and turn it into a hand drawn picture made by one of our very own artists and delivered to you as a phone wallpaper and avatar! The avatar will also be used to star in an upcoming Halloween in-game event!
The winner will also win 20 Gold Bars to their game and two more players will be picked to win 10 Gold Bars each!
Make sure to post the photo and name of your pet before before 8th October 2020 06:00 EST to get the chance of winning a pet-tastically spooky reward! You'll find all terms and conditions here.
Want to get a chance to win even more Gold Bars?
Head over to the Cats vs Dogs election HERE or check all Pet Rescue Saga Community competitions over HERE.
Leave a Comment