🐕️ Pet Rescue Level Challenge - Win Gold Bars and badges! (finished)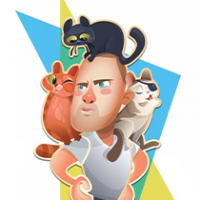 👨‍👩‍👦‍👦 New to the Community? Register here in just 2 seconds.
📱 Play Pet Rescue Saga HERE.
We'll start 2021 with Pet Rescue Saga as the Game of the Month and we have a petriffic challenge for you to start the year with!
The challenge is to play three different levels and for each level completed you will get an exclusive Community badge.
The three different levels to complete are a Rescue the Pets level, a Clear the Blocks level and a Super Hard Level. The Super Hard levels are marked with a fire on the map and can be in any level mode.
You can play any level in the game, but it will need to be past level 27 where the tutorial levels end. 
To get a badge, simply post your score from the "level completed" message when you completed the level. You can replay any old levels if you like, but the score needs to be when you completed the level and not from the level high score list.
When the challenge ends we will also pick five players among those who got all three badges and they will win 30 Gold Bars each to their Pet Rescue Saga game!
If you don't have a Community account yet, then register HERE in 2 seconds to participate in the challenge.
Good luck, rescuers!
You have until Friday 12 February 2021 06.00 EST to participate and you'll find terms and conditions here.
Find all Pet Rescue Game of the Month content HERE and discover the Pet Rescue Community HERE.
Comments