🐕️🚜
Pet Heroes Challenge!
New Community tournament coming soon. Find out more
HERE!
⚠️
Need help?
Check our FAQ:s first
HERE
📱
Got a new device?
Check how to sync over your progress
HERE
🐈️🏡❓️  Petopia - How does it work?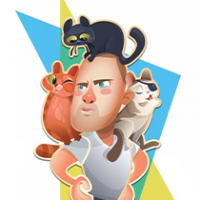 Crazy Cat Lad
Posts: 12,571
Community Manager
🐈️🏡 New to the Community? Register here in just 2 seconds.
Petopia is a new feature in Pet Rescue Saga that will be tested in the game 20 September to 18 October 2021.
What is Petopia?
Petopia is a city builder feature where you create your own city with houses, shops, restaurants, parks, offices. A whole city, but for pets!
How do I build my city?
Play your regular levels and for every completed level where you rescued pets, the pets will take the train to your city and arrive to the train station in the center.
For every level completed you will also be able to add a new building to your town. Choose between three different options of buildings to get your own personnel touch to the town and place them on any of the blue spaces around.
How many pets that will take the train and move in to your city, depends on how many pets you rescued on the actual level.
Love Points Meter
The love points meter above will progress for every building you add to your town. When the meter is full, you will be rewarded with a special building to give your city the right urban atmosphere and make it even more petacular!
Special cards
Sometimes when the meter is full you may also get a Special Card. With the cards you can either dress up your pets with some accessories or dig up the treasure chests outside the town.
Get extra love!
When a pet in your city is thinking of something, like playing with a ball, getting washed or having a donut. You can then tap on the pet and give them their treat and they will give you some love. The love will make your Love Points Meter progress faster.
Petopia Quests
Under the Events tab you'll find some quests and milestones for your Petopia city. Claim a pawsome reward for every completed quest!
Where is my Saga map?
The Saga map won't be available in the Petopia version of the game, but you can follow your current level beneath the city.
I don't have Petopia in my game!?
To get the Petopia feature active in your game, please make sure the app is updated and pass one level and it should appear automatically, if you are part of the Petopia test group. Please note that Petopia is only available on iOS and Android devices.
If the feature still doesn't come up, you can post your Game ID here and we'll try to add you to the test group as well so you can start building your city. How to find your Game ID, click HERE. The possibility to manually add players to the test group is limited, so we can't guarantee that you will get the feature.
Build, share, win Gold Bars!
Don't forget to share a screenshot of your city HERE to get the chance to win Gold Bars to your game!
Leave a Comment