📦️
Grow a Pet!
Give us feedback on the new event
HERE!
📱
What's your Pet Rescue game view?
Share your pic and claim a badge
HERE!
🐕️
Puppy Challenge!
50 Gold Bars to win
HERE!
🌳🏠️🐕️🥕 Spring Petopia - the petacular city feature is back!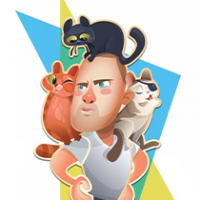 Crazy Cat Lad
Posts: 14,128
Community Manager
Petopia is back - in a new green, blooming spring edition!
Our petacular city builder event in Pet Rescue Saga is live again! 
This time in an updated spring edition. With a touch of fresh greens, flowers and topped with a Spring Market where you can earn Pet Coins!
Petopia will run for 4 weeks starting on Thursday 31 March. So make sure to open the game to not miss all the petacular fun!
If you haven't played the Petopia event before, don't worry we'll have a short introduction of the feature here. 
Even though you already played the event last year and constructed a city, Spring Petopia will have a new pet-riffic surprise feature for you as well - The Spring Market!
How do I build my city?
Play your regular levels in the game and all rescued pets from the pet levels will move into your Petopia city.
For every level completed you will also be rewarded with a card. You will have three cards to choose from every time.  
Simply choose which of them you prefer to claim your reward card.
Petopia Cards 
There are different types of cards in Spring Petopia:
-New building - Build a new house, garden or monument in your city.
-Accessories - Give a pet in your Petopia a nice hat or garment. 
-Jobs - Assign one the pets a job or mission in the city.
-Dig a treasure chest - Pick one of the hidden treasures outside the city and claim the Boosters the chest has inside. 
-Plant seeds - Plant the seeds in your city to grow fruit, vegetables or flowers.
Spring Market
The Plant seeds are new in Spring Petopia!
When choosing the reward card with plant seeds you can then plant the fruit, vegetables or flowers anywhere on your map.
The plants will then grow during the week. Different plants have different amounts of time until they are fully grown. The timer on each plant will show how long time remains until they are fully grown and ready to harvest. 
When the plants are ready to be picked, a 'Collect' sign will show up. Tap the plant to add them to the Spring Market. The plant will then start to grow again! 
The Spring Market will open only on Sundays. Your fruits, vegetables and flowers can then be sold and you can cash in Pet Coins to your game. 
Love Points Meter
The love points meter above will progress by using cards rewarded from completing levels. When the meter is full, you will be rewarded with a Special Building or some Boosters.
For every full love points meter, your city will rank up one level. The city level is displayed to the left on the meter. 
If you manage to get at least to Level 20 in your city, claim your exclusive Spring Petopia badge HERE.
Get extra love!
When a pet in your city is thinking of something, like playing with a ball, getting washed or having a donut. You can then tap on the pet and give them their treat and they will give you a love point. The love will make your Love Points Meter progress faster.
Edit your city plan!
Another new feature in Spring Petopia is that you can now move or remove a building in the city. 
Tap the tool icon in the right lower corner to move or delete any of your houses, parks, monuments or plantations.
Quests
The Petopia quests can be found under the Events tab.
The quests are grouped in batches with three quests in each. Every completed quest will give you a reward, but when all three quests in the same batch are completed, you can open the chest and claim an even bigger reward.
Petopia not showing up in your game?
Petopia is only available on mobile devices. If you are playing on a desktop, you can continue playing on a mobile device on the same level.
Simply connect the game to your Facebook account on mobile in order to access Spring Petopia. 
Please note that some older devices and low end devices may not be able to run the Petopia event. Connection issues on the device may also prevent you from seeing the event.  
You will also need the latest version of the app installed on your device to be able to receive the event in your game. 
More Spring Petopia in Community!
Claim your Spring Petopia badge HERE!
Win Gold Bars with your Petopia skills HERE!
Which plant do you prefer in Spring Petopia? Vote on your favourite HERE!
🐱

New to the Community? Register HERE in just 2 seconds.