🏝️
Summer Petopia!
Find all info and fun about the city builder feature
HERE!
🗺️
Share your Summer Petopia map in Community!
Claim your exclusive badge
HERE!
❓️
Summer Petopia Quiz!
Gold Bars to win
HERE!
Due to an issue with our servers, on the 5th of July
all Private Messages will be deleted and disabled.
Read more
HERE
One, two, three, four, boom! Gold Bars! (finished)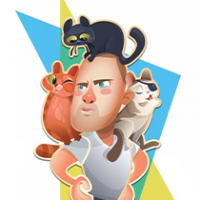 Crazy Cat Lad
Posts: 13,811
Community Manager
Five Pet Carriers where four pets are hiding, but the fifth Pet Carrier has a bomb.
Can you guess which one?
In this competition you will need to pick one, two, three or four of the Pet Carriers and for each Pet Carrier where a Pet is hiding inside you will win 10 Gold Bars. If any of the Pet Carriers you chose has the bomb, you will end up with nothing. 

So, the more Pet Carriers you choose, the more Gold Bars you can win, but there's also a higher risk that you get the bomb and won't win anything. If you pick only one or two, there's a lower risk for the bomb, but you the reward is lower as well.

How many of the Pet Carriers do you dare to pick?
To participate, comment here below the colours of the Pet Carriers you pick!
Blue, Green, Purple, Red and Yellow.
When the competition ends I will reveal which Pet is in which Carrier and which of them had the bomb. All the players who managed to pick Pet Carriers without getting the bomb will also win their 10-40 Gold Bars depending on how many Pet Carriers they picked. 
You have until Friday 29 November 2019 09:00 CET to participate and the Terms and Conditions are right 
here
.
This discussion has been closed.