(FINISHED) 🥳 20 Gold Bars for your new nickname!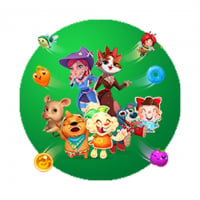 CommunityTeam
Posts: 1,914
System
Don't have a Community account yet?  Then sign up right here to participate!
Hello King Community crew!
Are you ready for a fun game? 😏
It's easy! Just create your new nickname, choosing 1 word from group A, and 1 word from group B...and remember to share it with us in a comment below!
Who will create the craziest nickname? Or the funniest, the sweetest, the most powerful one? 
Bear in mind it will be yours, so it should define you somehow...that's why mine will be "Gentle Alpaca"! Doesn't it suit me well? 🐪
Apart from the fun, you can also win some shiny Gold Bars for your favorite King game!
We'll choose 5 players who will win 20 Gold Bars in their game of choice!
You have until Thursday, October 22, 13.00 CEST to participate!
You can read the Terms and Conditions here.