🎨 New in the Hub: The Art Nook!
Share your King Fanart!
☀️ Introducing the King Accessibility Heroes! Check it out
HERE
🌶 News & Hot topics
HERE
! // 🎀 Discover all King games
HERE
!
🎉🎇🎈 Let's celebrate the International Corner's First Anniversary! 🎉🎇🎈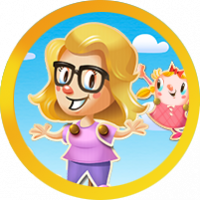 Elsa
Posts: 32,283
Community Hub Moderator
Dear community members, are you aware that we have an International Corner for some of our non-English speaking players? That's right, if your mother tongue is French, Spanish or German then I would like to share some information with you.
These are our International Ambassadors.....
@hechicerilla - Spanish Community
At the moment all three International Corners are running a contest in celebration of their First Year Anniversary. Below please find a link for each of their contests. .
🎉🎈🎇 Concours 1ère Anniversaire International 🎇🎈🎉
Nous allons donner 20 lingots à 5 joueurs 🥳🎉 Pour être éligible de gagner ces lingots, vous devez me dire dans quel fil vous avez trouvé les photos et me dire correctement dans quel communauté appartient les photos. 😁
Le concours prend fin le 7 Mai 2021 à 3pm CET.
____________________________ 
🎉🎉Celebremos el 1er Aniversario de la Comunidad Internacional!!🎉🎉🎉
Por favor. Usa el spoiler para dar tu respuesta 😊 - Daremos 20 lingotes a 5 jugadores 🎉 Para ser elegible para ganar estos lingotes, debes decirme en qué hilo encontraste las fotos y decirme correctamente a qué comunidad pertenecen las fotos. 😁
El concurso finaliza el 7 de mayo de 2021 a las 15:00 CET. 🎉
 ____________________________
🎇✨🎉🎊 Herzlich Willkommen zur 1. Jahres Feier - Internationalen Bereiches 🎊🎉✨🎇
Es werden 5 Gewinner mit je 20 GB ausgewählt.
Wer alles richtig gewußt hat.
Der Wettbewerb geht ab heute den 12.April - 7. Mai 2021 und ist um 15 uhr zu ende.
____________________________
If any of you comes across a message posted in any of these 3 languages, please give them the link to their appropriate International Corner.... French Community, Spanish Community or German Community. You can also tag @wykoon and I for help as we are the Community HUB Moderators for this area.

🌈________________________________________________________ 🌈