Member of the Month- May 2021: Sharon_Loose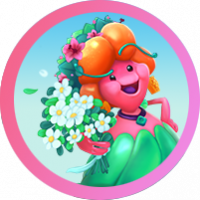 Lola_Pop
Posts: 8,048
Community Manager
For the month of May, our Community Managers and Game Moderators have decided the Member of the Month is...
✨👏👏👏 Congratulations!! 🏆🥇👏👏👏
⭐️
Our @Sharon_Loose is a friend for everybody, kind and fun, helping whenever she can and engaging in so many different Game Communities. ❤️
You deserve the Member of the Month badge, a permanent entry in the Community Hall of Fame and awarded you with 200 Gold Bars to your favorite game.
🎤 Would you like to know more about our brand new Member of the Month? Let's pass the mic to him/her!
💫Which of King's games are you currently playing and what do you like about them? Which one is your fav?
I'm currently playing CandyCrush Jelly Saga, CandyCrush Soda Saga, CandyCrush Friends Saga and Bubble Witch 3 everyday but I also play CandyCrush Saga, Papa Pear Saga and Farm Heroes Super Saga when I get the time, which isn't very often at the moment. My favourite game at the moment is Jelly...I think that's because I'm not getting stuck on any levels right now 😄 but I really love 'Friends' for its amazing characters.
💫What's your best memory with King games? And on the Community?
My best memory with King games has to be reaching the end of the map in Candy Crush Saga for the first time...way back when.
My best memory of the community has to be...well this has to be it ❤️
💫Do you have any expectations from the Community?
My expectations from the community would be that it continues to grow and remain the friendly place that it is.
💫What do you like the most about our Community?
What I like most about the community is the people, always friendly, always helpful and fun to be around.
💫If you could change anything about King (games, community, etc), what would it be?
If I could change anything about the games it would be to have a level search or episode select in every game.Oh..and to make the really hard levels a little bit easier so I'm not stuck for days 😂 The community is just fine as it is evolving quite nicely.
💫How did you find about the Community?
I found the community because I used to go to King Care to ask questions on the forum and then the community was formed but I have been most active in the last couple of years.
💫Anything else you'd like to share?
I'd just like to thank each and every one of our members for being here and making the community what it is today. It is an honour to have been chosen as M.O.M for May Thank you to the GM's and CM's for choosing me ❤️
⭐️
Thank you for this amazing interview, @Sharon_Loose ! And now, get ready for a wave of love coming your way! 👇️

Want to PLAY more?
Leave a Comment