🎶
Meet the Audio Team
and share your feedback
HERE!
🗞
September Monthly Newsletter
HERE
🌶 Check our
Hot topics
HERE
(ENDED) 💫 Art Challenge with our Kingster @veroma!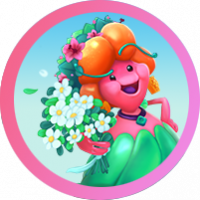 Lola_Pop
Posts: 8,610
Community Manager
✏️ Wanna participate? Sign up HERE!
🌷 Read our House Rules HERE!
Dear King Community,
We're more than pleased to announce our first ever King Community Art Challenge, made for all King players in the forum!  
In this first edition, we're featuring the King-tastic Jelly Artist @veroma and one of all-time favorite King characters: Jenny!
🔶 The rewards? Well, lend me your ears: on top of Gold Bars and a badge, the winner will be featured on the official Candy Crush Jelly Saga Facebook page! How awesome is that?
🔷 What do I need to do to participate? 
Easy! You'll have to draw the best Jelly Jenny that you can! 
What, that's not easy? Well, we can help you. Our Jellylicious Kingster @veroma, Senior Game Artist for Candy Crush Jelly Saga, shows you in this video (made for YOU and for this challenge) how to draw this character:
🔶 How do I submit my artwork?
Just draw your Jelly Jenny on a white piece of paper and be as creative as you want! Go wild and color your Jenny, or add other details & elements to her - everything counts to win the heart of the Community and get more reactions. 😉 And remember: practice makes perfect, so you can post more than one and more than two drawings, that's more than ok as long as they're made my you 🤗
Once you have it, take a screenshot/photo and upload it to this thread using the option highlighted in red:
🔷 Important:
The work submitted to this contest must be originally made for this contest.
Don't forget to sign your drawing using your Community nickname! 
🔶 How will we choose the winner?
We CMs will nominate 5 drawings, taking into consideration the skills, the creativity, the fun, and the love reactions that the different entries have. And @veroma will have the last word on who's the winner: she's the artist!
Don't hesitate and react to the ones you like the most!
🔷 And… What about the prizes?
3 finalists will receive 50 Gold Bars each and have their artwork displayed in our Community Art Gallery.
On top of that, the absolute winner will also be featured on the official Jelly Facebook page. Sweet!
In addition, every player who participates with a drawing will get this marvelous badge:
🔶 How much time do we have to submit our artwork?
You have until the 16th of August to submit your artwork. 
The winner will be announced on the 19th of August here, in the Art Nook!
-Terms and Conditions here -