Member of the Month-August 2021: rebelchild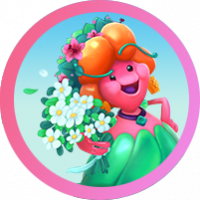 Lola_Pop
Posts: 11,958
Community Manager
For the month of August, our Community Managers and Game Mods have decided the Member of the Month is no other than...drumroll please...
✨👏👏👏 Congratulations!! 🏆🥇👏👏👏
Our @rebelchild is a beloved member of our Community, always up to good fun and loyal to her many many friends in the forum.
You deserve the Member of the Month badge, a permanent entry in the Community Hall of Fame and awarded you with 200 Gold Bars to your favorite game.
🎤 Would you like to know more about our brand new Member of the Month? Let's pass the mic to her!
💫Which of King's games are you currently playing and what do you like about them? Which one is your fav?
Wow! I am shocked and honored to receive the member of the month. I play just about all of the King games. My favorite is ccs, but I also play ccfs, fhs, ccss, ccjs, prs, blossom blast, bubble witch 2 and 3, and diamond diaries. I like puzzles and these games are all like puzzles to solve. I loved the game tetris and when ccs first came out about 12 years ago, I played it and I was hooked.
💫What's your best memory with King games? And on the Community?
My best memory with King games would be the first time I ever played it and realized how addicting this game was. My fondest memories in the community is all the fun we had in the Funny Gifs and Memes page, and our Truth or Dare. But great memories are created every day with all the fun to be had here in the community.
💫Do you have any expectations from the Community?
I don't have any expectations per say from the community. I enjoy every moment I spend here.
💫What do you like the most about our Community?
The thing I like best about the community is the lasting friendships I have made. I have friends here from all walks of life and from all over the world. I treasure these friendships. The people in the community are the best part.
💫If you could change anything about King (games, community, etc), what would it be?
I have heard that the international areas were going to do away with the ambassadors and be run by a translation program. If that is the case, I think it is a big mistake. I feel the players need the contact of a real person and not a program.
💫How did you find about the Community?
I found myself in the community sort of by accident. I was having difficulty beating a level and clicked on something ...and here I was. I've been here over a year and I have no intention on ever leaving
💫Anything else you'd like to share?
I would like to add this message to all the newbies: The community can be a little confusing at first to navigate through, but don't give up and leave. Reach out to any of us. We would love to help you discover all the fun that the community has to offer. I personally enjoy helping new comers. And each time I do I make a new friend.
Thank you for this amazing interview, @rebelchild ! And now, get ready for a wave of love coming your way!
🌊
❤️
Comments
Leave a Comment