Look at what I just did!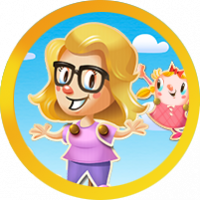 Elsa
Posts: 34,908
Sweet Legend
As I was responding to a message that @Racoon7 wrote to me in another message, a light bulb came on above my head and I thought .......... why not start to get in the Christmas holiday mood! I just created my first "Crushing Candy Wreath"!
What do you guys think of it? Would you like to join me in an early holiday creation? Below I'm attaching the wreath and all that you have to do is to add your crushing candies to it. There are no badges to earn. There is no gold bars to be added in your game. It's just a fun thing to get us in the holiday mood!
This might end up being moved to the Art Nook, but for now it's exposure to all our community members here in the Player's Corner.
So who wants to create their very own personal booster wreath?