Member of the Month- December 2021: simplyP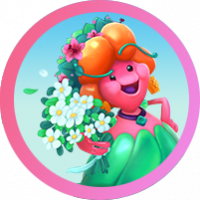 Lola_Pop
Posts: 11,174
Community Manager
For the last month of 2021, our Community Managers and Game Mods have decided the Member of the Month is the one and only...
✨👏👏👏 Congratulations!! 🏆🥇👏👏👏
Nice, witty and always up for some good fun, @simplyP has made his way into the Community's heart with his comments and discussions.
For these reasons, @simplyP deserves the Member of the Month badge, a permanent entry in the Community Hall of Fame and 200 Gold Bars to their favorite game.
🎤 Would you like to know more about our brand new Member of the Month? Get ready because here he comes: @simplyP !
💫Which of King's games are you currently playing and what do you like about them? Which one is your fav?
Currently I'm playing only 2 King's games, CCSS and CCFS. Besides new and endless levels which are engaging, they also have special events and features that keep me entertained and busy. Can't pick fav cuz I love them both and play both daily. They leave me no time for other games. 😅
💫What's your best memory with King games? And on the Community?
Best memory with King game was playing my fav feature BGH on CCSS weekly. About 2 years ago, King took BGH away and that was when I joined this community to complain about it. The community gave me a way to vent my frustration and I did. Complaining was my best memory here 😆. That was the old me. Now I'm back for the second time cuz I missed "participating" in all the contests. Win or not, I just love to comment(s) 😂
💫Do you have any expectations from the Community?
Expectations! Hmmm, you all exceeded my expectations. Love the drama this community provides.
💫What do you like the most about our Community?
I like taking part in contests/challenges with all my community's friends and nemesis. Between contests, you can find me in multiple counting games 😁
💫If you could change anything about King (games, community, etc), what would it be?
There are 2 things I want to change about King's games. First is SCROLLING!!! need I say more. don't think so. 😉
Second, please bring back BubbleGum Hill (BGH) on regular basis. Not once a year🙄
💫How did you find the Community, how long have you been around?
I found the community from a link in the game app (by accident). I don't think I've been here that long. I'm just a newbie 🤫
💫Anything else you'd like to share?
Not really. Just have fun I guess😁
Thanks a lot, newbie
🤭

! We hope this award brings fun and not drama to the forum!

🤣
Leave a Comment