🔮 Collect your Level Badge 🔮
HERE
✨
🎟️ Join the Bubble Witch 3 Magic Millionaire club and get a Badge 👉
HERE
Give us your feedback: Ideas for the next helper/blocker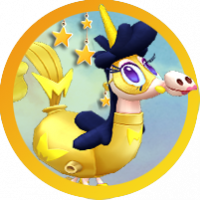 LadyRaffie
Posts: 2,976
Community Manager
If you don't have a Community account yet, no worries, sign up right here to participate! It only takes a second! As easy as that 😉



Hello Witches and Wizards 🌟
As you may have noticed, Community is a great place for player to get together and discuss the game they love.
But it's also the perfect place to give direct feedback! 
Our game studio is burning to hear your ideas 
🎉🎉🎉


Our Studio wants to make sure that the game experience remains the best for you, at any time of the game. As you progress in the World of Stella, levels become more complex and filled with blockers and helpers. 



Is there any HELPER or BLOCKER that you would love to see in the game but is not there yet? 
By sharing your feelings on the game with us, our Studio will be able to take your feedback in and make sure to provide the best experience in your game!

5 players who leave insightful feedback will be picked and receive 10 Gold bars each! 


You have until
Friday 18th of October
 17:00 CET to participate!
You can read the Terms and Conditions 
here
.
Have a Bubblific day
 🌈 Let's celebrate our uniqueness! 
HERE
 I  All You Need Is LOVE ❤️ 
HERE
Win Gold Bars!🐢 Find The Turtle! 
HERE