➡️ Have you passed
a milestone level?
Come grab your badges
HERE!
➡️ Need some tips for a
hard level?
Head over
HERE!
" I once designed a level inspired by the Brandenburg gate: it's level 1631"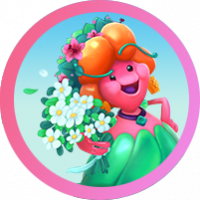 Lola_Pop
Posts: 11,647
Community Manager
Dear Community,
We have a sweet treat for you today. We've met our dear Level Designer @King_Apple_Pie , and she's been so lovely to give us an interview. Ready to get to know her?
🍍 Hi, @King_Apple_Pie! We hope you're doing great. Our Candy Crush Jelly Community would love to learn more about you- do you want to chat with us for a bit?
🍎 Sure! 😊
🍍 First question: How long have you been working at King? 
🍎 Since March 2018, I've hit my 4-year anniversary this year. 
🍍 Do you like being a Kingster? Why?
🍎 Yes, I do! At King there are a lot of amazing people, we sometimes do some fun activities, and also the work atmosphere is very positive.
🍍 How are new levels tested before they are released?
🍎 By playing them many, many times. Preferably by different people of the Level Design team, not just by the creator.
🍍 Where do you get the inspiration to make new levels from?
🍎 From literally anywhere. We also have an assistant tool in the editor that proposes Level shapes. Sometimes I just use that to get started and then fill it in with blockers and the objective where it makes sense. I also did a level inspired by the Brandenburg gate shape at some point. It's level 1631. 
🍍 What are your tips for someone who has recently started playing the game?
🍎 For Boss levels, I'd recommend using their behavior to your advantage. Especially in Puffler Boss Levels, it can help you let Carl make some moves to uncover pufflers so that you can collect them. 😉 In general, making moves at the bottom of the board is good,  as it's more likely to get cascades. Oh, and special candies aren't always the best move. 😏
🍍 Do you ever get stuck in a level? If so, what do you do?
🍎 When I get stuck sometimes, it helps to put it down and come back to the level the next day, for example. Some days just aren't for solving challenging Candy Crush Jelly Saga levels 😁
🍍 What's your favorite game mode and why? 
🍎 I'd say my favorite regular game mode is Spread the Jelly. It's fun to make a level for this mode and balance it quickly. And it's also fun to play, as it has constant progression and a lot of variety on how to start it. Boss mode-wise, my favorite is the Puffler Boss mode with Cupcake Carl. I like it since he is the most helpful of all 3 of the bosses. Once you have his behavior down, you can try and use his moves to your advantage!
🍍 Can you tell us if there will be any future surprises regarding levels, blockers, and modes?
🍎 We always have a lot of plans and ideas for you guys. For this year, we have a bunch of awesome new content planned, so watch out for it 😎
🍍 What does Community mean to you? 
🍎 Community for me is a group of people that share the same interest, sometimes even finding new friends over that specific hobby. 
🍍 What else would you like to tell your players?
🍎 All of you guys rock! Thank you so much for playing Jelly Saga and being active in our Community. It really means a lot to all of us (not just Level Design) to read your feedback, get unique ideas for the game, and, most of all, read about your love for the game. It really makes our day when Lola_Pop shares those with us. We love and appreciate every single one of you! 
🍍 Thanks a lot, dear @King_Apple_Pie!
Now it's YOUR turn, Jellies! Is there anything you'd like to share with our Kingster? Do it here below, don't be shy!
No account yet? REGISTER and start commenting!
Leave a Comment