🍫
Chocolate Box
Server Error/ Box missing or disappeared! More details
HERE
⚠️
Need help?
Check our FAQ:s first
HERE
Sweet tips to beat level 65 in Candy Crush Saga™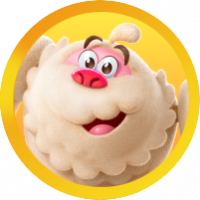 Daniel
Posts: 109
Level 3
We know, we know… Level 65 of Candy Crush Saga is a little bit hard. Let us lend a helping hand and give you some of our sweetest strategies to beat it. 
Strategy: First things first
Prioritization is key! It's important to know what to focus on first. Understanding the final goal will help you identify secondary objectives that will lead you to your sweet victory. 
Who doesn't like chocolate? Eat it first! Destroying the chocolate blockers will stop it from appearing again. It's okay if you can't crush chocolate in every turn, just try to get rid of it as soon as you can. Don't let the chocolate cover your special candies or they will be gone for good! 
Remember, focusing on chocolate will help you destroy jelly blockers!
Phew… No more chocolate. But wait… What are those? Liquorice locks! Destroying them is easier than you'd think, just try to match three candies with the color inside the blocker. They look scarier than they actually are, but don't underestimate them. Focus your attention on them as soon as you can. There are not many so It won't be a big problem for you!
Once you are done with them, there will only be jelly blockers left! Keep on going and you will clear them all.
Remember, try to have clear view of what you need to focus on first and prioritize your goals. You can do it!
Strategy: Let the magic happen
It's candy time! Isn't it satisfactory when you combine two special candies? Sweet!
Try to accumulate as many different special candies as you can. Combining different kinds will unleash a colorful explosion of delicious points. There are multiple combinations for you to explore, each special candy combination will have a different reaction. Try them all and learn which ones are the most useful for you!
It's helpful to save them towards the end of your game, but don't hesitate on using them if you see a great opportunity to crush it!
We have one little secret for you: If you can combine two color bombs, something  amazing will happen!
Strategy: Start biting the delicious edges
In level 65, all the important blockers are located towards the edges. There are jelly blockers in the center as well, but they will be cleared while playing. Focus your attention on the outside part of the square. It's okay if there is not always a chance to make a play that destroys a blocker. Keep on playing the best way you can!
The corners are often the most difficult spot to reach with the candy you need. Special candy can be really useful to clear nearby areas. It's important to take these areas into consideration when planning your strategy. Keep practicing and eventually you will learn the easiest way to access the edges.
Strategy: Take your time. Be adaptable
Don't rush! Take your time and don't worry, there is no time limit. Look at the board and make the best available move.
Always take it slow and make the best play available. Try to predict what you want to do next. Luck is helpful, but having a good strategy will make a tasty difference.
You want to get as much value out of each move as you can. It's okay if sometimes you explode a special candy by mistake, you will get more for sure. It's important to be able to adapt to changing or unexpected situations.
Strategy: Boost boost boost!
You are almost there! If you did everything right but you are having a hard time, try using a booster to make your life easier.
There are multiple boosters you can win or acquire. Analyze your situation to decide which booster is the best fit for your specific situation. 
Good luck! Combine all the different strategies with your own personal tactics. Don't be desperate and above all else, be confident. Practice and you will definitely beat level 65.