The Cosmic Climb event is here! Let us know what you think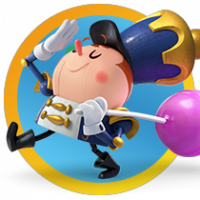 Pounawea
Posts: 3,734
Community Manager
No account yet? S
ign up here in 2 seconds! 

🍭 🎉

Dear community,
I am really excited to inform you that we have a brand new amazing event in our Candy game: The
Cosmic Climb
!
Three mountains stand between you and the prize as phenomenal as the Northern Lights themselves. Each mountain has its own leaderboard - You will get the chance to climb each one by collecting stars. 
IMPORTANT: How can we collect stars?
1.- Focus on New levels! In these levels, you can earn a maximum of 3 Stars for the event!
2.- Sugar Stars will not count. Thus, if you already have collected 3 stars, focus on other levels in which you may have 1 or 2 stars only. 
Those who reach the top of the last leaderboard will harness the power of the Candy Cosmos and win the chance to customize a Candy Crush Saga character!

Don't worry, there's no extra skills or gameplay to learn: the event leaderboard will count the stars you collect as you play your way up the game map. SWEET!

Our amazing Candy Crush Studio has worked hard to deliver another exceptional Quest. They all put so much passion in it and it shows  ❤️

Please let us know what you think about the Cosmic Climb and don't be afraid to give us plenty of details - What you like, what you dislike, what you'd like to see more of/less of or anything that can help us keep the magic going! 
Simply comment below with your feedback! That would mean a lot to us - Help us make the game sweeter than ever! 
Event Schedule
Qualifier round begins November 28th

Ends December 3rd
Semi-Final round begins December 6th
Ends December 9th
Big Final Round begins December 13th
Ends December 16th
________________________________________________________________________
🌟
Thanks everyone and don't forget to have fun!
👨‍👩‍👦‍👦   New to the Community? Sign up HERE in 2 seconds!