🎃  👻 🕸️ Halloween 2020 - Sweeter and spookier than ever in Candy Crush Saga!
HERE!
🍰️ 🎉️ 🎈 Level 8000 in Candy Crush Saga! Let's make the biggest cake together!
HERE!
🍬 🍬 The Candy Necklace in Candy Crush Saga!
HERE!
/ / 🎯 Level complete messages improvements! More info
HERE!
🏆🥇 Win Gold Bars and exclusive Community badges
HERE!
Post your score on Level 1726 and win Gold Bars! [Finished]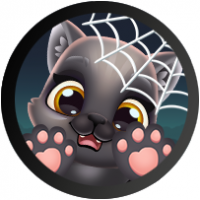 Crazy Cat Lad
Posts: 7,865
Community Manager
👪 New to the Community? Register here in just 2 seconds!
Level 1726!
Do you have what it takes to crush the level?
Play level 1726.
Take a screen shot of your score.
Post the score on this page.
One randomly picked players will win 20 Gold Bars when the competition ends!
Please note that the screen shot will need to be the pop up message from when completing the level and not from the game map or the level's high score list. So if you already have passed the level, then scroll back to the level and replay it and post the score here.
There are five levels at the moment where you can win Gold Bars by posting your score. You can find all levels HERE and don't forget to also vote on which of them were the sweetest to beat.
You have until Thursday 6 August 2020 06:00 EST to participate and the Terms and Conditions are right here.
Halloween 2020 🎃👻 sweeter and spookier than ever in Candy Crush Saga!Check it out 👉👉👉 
HERE