🍬🕹️🤼‍♀️ Yeti's Candy Tournament - Week 15! (ended)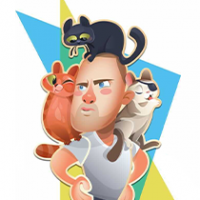 Crazy Cat Lad
Posts: 10,453
Community Manager
👨‍👩‍👦‍👦 New to the Community? Register here in just 2 seconds.
Welcome to Week 15 and the last quest in Yeti's Candy Tournament!
It's not quite right though, since we will have a bonus quest next week. The Bonus quest will be slightly different and you will have the chance to take that last badge you're missing.
You can find all details about the whole 15-week tournament HERE.
What is the quest this week?
This week it's to make have a Wrapped Candy, a Striped Candy and a Color Bomb on the game board at the same time.
You can play any level past level 125 in the game and it is allowed to use both pre-game Boosters or any other bonuses that you earned.
Having several of the specific candies is also allowed.
Only requirement is that the three special candies are not under Marmalade, Sugar Crystals, in a Licorice Lock or in any way locked or hidden. All three candies need to be "free".
How to participate? 
When you managed to make the three Special Candies at the same time, take a screenshot of your game board and post it here on this page.
What can I win?
For each completed quest you will progress in the tournament saga map (above). Five of the tiers will give you an exclusive badge here in Community. The more quests you complete, the more badges you can win. Find all about the ranks and badges on the Tournament main page HERE.
On top of that! Each week we'll also pick three players who completed the quest that will win 15 Gold Bars to their game.
Remember…
...to post your screenshot before 23 June 2021, since when the Bonus Quest starts on 23 June, this quest will close and you can no longer participate in Week 15.
Good luck!
The participation for this quest will end on 23 June 2021 at 05:00 EST/ 11:00 CET and you can find the Terms & Conditions here.