🐢
Candy Creative Season!
More info about the Candylicious events
HERE!
🔮
Magic Shuffler -
New Booster in Candy Crush Saga!
HERE!
🏃
Candy Spring Race!
Collect badges and win Gold Bars
HERE!
💰️ Gold Rush - More ways to get free Gold Bars in Candy Crush Saga!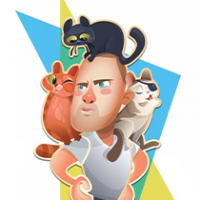 Crazy Cat Lad
Posts: 13,559
Community Manager
Time to make Candy Crush Saga even more brilliant. Gold Rush is here!
Gold Rush is a new challenge in the Candy Necklace where you can earn Gold Bars to your game.
You heard it right! Free Gold Bars!
Collect the Gold Nuggets
Every time you start a level on a tier that features a Gold Nugget in the Candy Necklace, the Gold Nugget will be added to your Gold Rush challenge in the game. The higher the Candy Necklace tier, the more Gold Nuggets you can earn.
Claim your Gold Bars
The Gold Nuggets will make Gold Bars. Simply keep collecting Gold Nuggets and follow your progress in the Gold Rush event meter. When the meter is full and you have enough Gold Nuggets, your Gold Bars will be added to your game automatically!
Timer
Collect as many Gold Nuggets as you can. Claim as many Gold Bars as you can make out of the Gold Nuggets. Remember though that Gold Rush is runs for a limited time. So make sure you have all Gold Nuggets for your Gold Bars before the time runs out!
Get ready for Gold Rush!
Are you ready for this brilliant challenge and to collect Gold Bars in your game?
Gold Rush will be rolled out in Candy Crush Saga during November, so stay tuned in your game.
Please note that the actual numbers on the Gold Nuggets, the amount of required Gold Nuggets and the amount of Gold Bars may change in the event.
Gold Rush will be available for a limited amount of players in its first phase. You will also need to be at a higher level in the game to be able to get Gold Rush in the game.
👨‍👩‍👦‍👦 New to the Community? Register HERE in just 2 seconds.