🏆️
Candy Cup!
Find out everything you need to know
HERE!
🥳
Want to be a part of Candy Crush Saga's 10th anniversary?
Preview of what's coming soon
More Info HERE!
🏖️🎵  Sweet Summer Season Part 2 - The Music Festival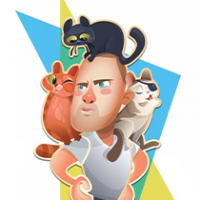 Crazy Cat Lad
Posts: 14,139
Community Manager
The Sweet Summer Season continues!
All August we'll enjoy the second part of the Sweet Summer. After beach and all ice cream, it's time for the Music Festival!
3 - 15 August we will also have new cool music in the game. Find out why you should play with music on in August HERE.
Mark also your calendars with the following dates and events:
Music Festival Season kick starts with four different music themes!
Four 3-day events with a new colour and candy to collect every game round. Every round will also have special themed music!
3 - 6 August - Jelly Jazz! Collect the Blue Saxophone Candies and get into a jazzy feeling.
6 - 9 August - Caramel Country! Collect the Orange Banjo Candies in a traditional country mood.
9 - 12 August - Popcorn Pop! Collect the Green Microphone Candies and pop it away.
12 - 15 August - Rock 'n Candy! Collect the Purple Guitar Candies and rock it!
Remember to also vote on your favourite music HERE!
Join Yeti on a musical road trip!
Yeti need to get his band together and get ready for the concert.
Follow the story on your Saga map and when Denize, Tiffi and Casey are joining Yeti's band towards the sweet gig. Claim your treats on your way to the concert!
This musical story will continue Monday to Thursday every week.
Time to take off and fly to the clouds with Tiffi and Misty!
Collect candies on your regular Saga levels to fuel the balloon and fly to the pot of gold. A big jackpot of Gold Bars is waiting.
18 - 21 August Qualifier Round
Collect Blue Candies to get your Golden Ticket to the Final. A sweet reward will also be given out if you qualify.
22 - 25 August Wild Card Round
If case you missed the Qualifier Round. You have a new chance in the Wild Card Round!
Collect Green Candies to claim your ticket to the Final Round.
26 - 29 August Final Round
It's time for the big Final!
Collect Orange Candies and share 20 Million Gold Bars with all other winners
Find more details and claim your badge HERE!
Two rounds where you compete against other players on a leader board.
The challenge is to match as many Color Bombs you can on your levels.
Make sure to come top 10 to claim a reward. The top player though will get an extra sweet reward!
The event will run 22 - 27 August and 2 - 7 September
More music, more moves, more magic in Community!
Play with your sound on in August! Find why you should switch on the music in the game this month HERE.
What's your favourite music theme? Vote, comment and claim your Candy Music Festival badge HERE.
Can you crack the hidden Candy Crush music language? Guess and win 50 Gold Bars! HERE.
Pot of Gold - Claim your badge and get the chance to win 20 extra Gold Bars HERE. Give us feedback about the event HERE!
👨‍👩‍👦‍👦 New to the Community? Register HERE in just 2 seconds.