📣 ❣️ New character joining the family: Guess who?! Vote for your favourite name and win Gold Bars
HERE!
// ➡️ 🔔 Don't be shy and say Hi!
HERE!
// 📣 🍬🍬 #TheCrushIsReal: did you have fun playing it? Let us know
HERE!
🏆🥇Win Gold Bars and exclusive Community badges
HERE!
// 🗳️ CCS Boosters: Vote for your favorite and tell us why
HERE!
// 🥳 🥳Celebrate Level 7000 with us and win prizes!
HERE!
I'm curious to know where are Community members from?
Hi everyone
I'm really curious to know where everyone is from? Candy Crush Saga is such a worldwide phenomena and it's awesome to see everyone here coming together in Community
I'll start
: I'm from Finland! Are there other Finns out there?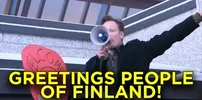 New to Candy Crush Saga or Community? Check out Beginner's Corner
here!
New competition in Candy Crush Saga! Check it out
here!
New Superstar competition in Blossom Blast Saga
here! 
Howdy, Stranger!
It looks like you're new here. If you want to get involved, click one of these buttons!
Categories
Leaderboard
This Week's Leaders
All Time Leaders