🏆️
Candy Cup!
Find out everything you need to know
HERE!
🥳
Want to be a part of Candy Crush Saga's 10th anniversary?
Preview of what's coming soon
More Info HERE!
Bubblegum Pop in Candy Crush Saga!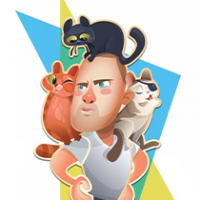 Crazy Cat Lad
Posts: 14,137
Community Manager
A new sweet and bubbly candy is coming to the Candy Kingdom - Bubblegum Pop!
This sticky blocker booster will appear on level 6531 that will be released shortly. If you play via the Windows app on a Windows 10 PC you'll see it any day soon, on other devices the Bubblegum will pop up in your game during March.
How does it work?
The Bubblegum Pop is a blocker, at least to start with, and cannot be switched or moved anywhere on the game board. It's stuck!! After clearing it though, the Bubblegum is actually a booster that can help you to pass the level.
How can I clear it?
You can clear it by matching candies next to it or hitting it with a special candy like the Wrapped Candy, Striped Candy, Party Booster etc.
After five hits the Bubblegum will burst and explode and in the explosion it will clear one row of candies around it. In the exact same way when you crush a Wrapped Candy.
Bubbly tip!
If you play a level full of Bubblegums, the key to your sweet success is to create a chain reaction. When a Bubblegum explodes it will also hit the other Bubblegums next to it, that then may also explode and trigger even more Bubblegums, and so on.
Are you excited over to see this new candy popping up in the game?