Fantastic 5 changes: 7,000 points is the new team goal!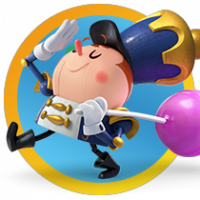 Pounawea
Posts: 3,732
Community Manager
Hello everyone,
I'd like to share with you the information in regards to the upcoming changes in the Fantastic 5 feature. Please keep reading to find out more!
The Fantastic 5 feature is changing the total # of points needed to complete the team's goal: 7,000 points!
First of all, please remember to update your game to the latest version so you can see the new ways of getting more points and help your team to complete the goal.
Now, let's have a look at the changes that are coming with the Fantastic Five - 7 days challenge!
Once you complete your current Fantastic 5 mission, the next one will start with the new configuration. So, it might take some days until you get to see the new points system in your game.
From now on, we will need 7,000 Points to complete the team goal.
We have also changed the number of points you can get after completing Fantastic 5 tasks:

Log in daily: 25 points
Clear levels: 25 points
Finish episodes: 100 points
Clear harder levels:  65 points
Within the latest update, we also added new ways of getting points. Now, we've also updated the points you can get:

Complete levels at first try: 20 points
Win Sugar Stars: 25 points
Use boosters in levels: 10 points per each booster
That's all for now, 
Happy crushing everyone!
👨‍👩‍👦‍👦   New to the Community? Sign up HERE in 2 seconds!