🌈🌈 Rainbow Rapids - new feature!!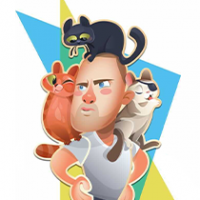 Crazy Cat Lad
Posts: 11,092
Community Manager
Would you like to participate, share your feedback and win Gold Bars?
Sign up to our forum HERE in 2 seconds!
🎶 Somewhere over the rainbow… 🎶 Yes, the rainbows have arrived in the Candy Kingdom! 
Are you ready for this new game mode?
From level 7116 and on you will discover this new colorful feature. 
If you aren't that high up in the game yet, you'll get the chance to play the Rainbow Rapid levels in a live event.
So get ready for Rainbow Rapids!
So how does this new game mode work?
It may look a bit confusing at first. You may even wonder what the aim is. 
Don't worry, the Rainbows are easy to get a grip of.
Each level features one or more Rainbow streams that you need to lead from the faucets to the molds, by clearing all the blockers on its way.
The Rainbow streams start always from the faucets and flow through the game board and end in the molds:
The path where the Rainbow flows through is slightly darker than the rest of the game board, so you can easily see its way and which blockers you will need to clear.
The blockers are cleared the same familiar way, by matching candies next to them or hitting them with a special candy.
Once all blockers that are stopping the stream are cleared, the Rainbow will reach the mold and it will be complete with the colors:
The faucet and the mold will also disappear when the Rainbow stream is complete and the order is checked!
Level Designer - Tasty tips!
-Check the paths and which blockers are blocking the Rainbow stream when you enter the level
-Not always all blockers need to be cleared, focus on the ones that block the rainbow streams
-Sometimes a mold or a faucet will block parts of the game, check which Rainbow Rapid needs to be completed first 
Are you excited to go with the rainbow flow?
Level 7116 and the Rainbow Rapids will open in the game on 27 May on the Windows 10 app and on Facebook, iOS and Android on 10 June!