❄️ Farm Pass Frosty Season - How to Play!❄️
HERE
🥇 WIN GOLD!! Guess the score 🥇
HERE
🐥 Beat the Superstar Contest is back in action 🐥
HERE
Don't be shy and come say Hi 🖐🐝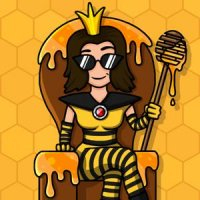 QueenB
Posts: 6,672
Community Manager
☀️No account yet? Sign up here in 2 seconds!☀️
Howdy Farmers and warm welcome to the Farm Heroes Saga Community 🤗We are so happy you made it here!
Since we all share the same passion for Farm Heroes, we would like to use this space to introduce ourselves and get to know each others a bit better 🤗
Now, we know that it can be a bit intimating so let us start:
I'll start with myself - I'm QueenB. I'm from Norway and I live in sunny Barcelona 🌞🏖️ I looove traveling, the Philippines is one of favorite spots at the moment. Oh, and I am a huge fan of free food  🤤 I'm friendly, approachable and have lots of energy 😝
Sometimes I might sting, but that's my thing 👌🐝
I'm one of the Community Managers here at King but you will see me more around the Farm area together with my fantastic, and also a Queen, @QueenMia
Just like cats 🐱@QueenMia enjoys being in the sun, eating, being adventurous, traveling and life in general. She likes challenges and practises boxing and trail running. She's a curious Queen so you'll see her around asking plenty of questions 😉
We also have our lovely Superstars kindly helping out here and there so you will also see them a lot around guiding you 🤓> @Chicken_Slayer @PummyRaj @bearwithme @encantes @MountainMom
We're very excited to have you join the Farm Heroes Community!
We'll make sure everyone enjoys the ride 😉
👉So what about you?!
Time to have some fun together farmers 🤠🚜🥬 🥕🍏☀️🍎 See you around the Community, don't forget to have fun 🍒
👉New here?
🍏If you want to find out more about the game and the Studio, check our hottest topics here!
🍏If you want more fun, check the Fun Area here!
🍏If you want to win Gold and Boosters, check all our contests here!
So see you around, guys 😉
Happy playing and don't forget to have fun 🤗

Leave a Comment