🏆 New Farmtastic Contest - Beat the Superstar 💫✨(Ended)!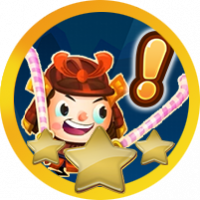 Elsa
Posts: 28,094
Superstar
👉No account yet? Sign up here in 2 seconds! 👈
Hello everyone and welcome to the Second "Farmtastic Beat the Superstar Score" Challenge!
Every two weeks you will have a chance to beat the score of a Superstar. This week our Superstar is @Elsa and you have to try to beat her score of 187,000 on level 434.
Anyone who can beat the score will win 3 shovel boosters; however, the top three scores will win Gold Bars and a very special Champion Badge!
🥇1st Best score: 30 GB + Badge
🥈2nd Best score: 25 GB + Badge
🥉3rd Best score: 20 GB + Badge
You have until 1500 CET, 4 May to enter the contest.
Contest Terms & Condition link here.

"Mother of Superstars. Relentless and passionate like no one else."

❤️ ❤️ ❤️ ❤️

Leave a Comment