Bought gold to finish a level.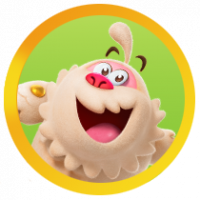 Hi
I have send an email but had no response from you. Thus I quote my email here:
Hi
I am really really upset this morning. I am on level 3269 and almost have finished the game. Just a few moves left. So I bought a R49.00 package to continue. As I pressed continue, a whatsapp message came in and the game minimised. Then it starts from the beginning again. I lost the 9 gold and the 5 extra moves. The very same thing happened on level 8 of the Golden egg. I can forward you the Google play order receipts in both cases. What upsets me most is that I will now not get the last of Choochoo's gifts as I am way over my spending limit with Farm heroes saga already this month. 
I dont want to post this on the forums. 
Thank you for a great game 
I took some screenshots, but it is worthless as nothing is showing. However, the very same thing happened this morning, except, there was no whatsapp message. After the transaction was done, the game went back to the starting page and I could not finish the level. I hereby attach the screenshot showing the gold in my game. I do not think I will buy gold anymore.
--
Laetitia
Answers