❄️ Farm Pass Frosty Season - How to Play!❄️
HERE
🐥 Beat the Superstar Contest is back in action 🐥
HERE
(Ended) Want to win 30 Gold bars? Help Rancid!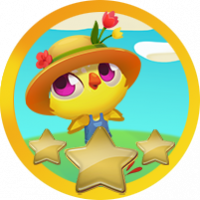 Chicken_Slayer
Posts: 13,222
Superstar
New here? Sign up here to take part.
Howdy Farmers!
Rancid has been left in charge of the mushroom nursery. The trouble is, every time he takes a step, they grow up and then bounce away so he has to be really careful to stay still!
Which is really hard when you are Rancid and you like to jump around. There are 22 baby mushrooms in the picture, can you find them all?
Be a good player though. Keep it fair to all so you don't do all the work for others. Use the spoiler feature 😘 It won't work with adding pictures though so you are better off writing where they are 😉
⭐ How to participate
Just post your answer using the spoiler feature
⭐ What is the prize?
30 gold bars given to 5 correct players chosen randomly to be added to your farm heroes account
⭐What are you waiting for? Enter now!⭐
You have until Monday 7th December at 16:00 GMT to get your answers in.
Good luck everyone, I hope you enjoy it!
Terms and Conditions here
⭐⭐⭐⭐⭐
Other community recommendations
Have a good idea for the game? Share it here
New event post here
Give feedback about parts of the game here

You can find out more about our Superstars here

 🍓 Want an undo button? Vote here 🍓

Keep social distancing 🥕 Stay Local no trips to Barnard castle! 🥕 Protect your loved ones 🍓 Do as they say, not as they do

Farm heroes addict slaying chickens since 2013. Wife, mother, youtuber, blogger, co-running a group with Mr slayer, endlessly trying to defeat Rancid while raising younger versions of their dad and I. We have no chance!
Leave a Comment