🐈️🏡 Petopia - the petacular city in Pet Rescue Saga!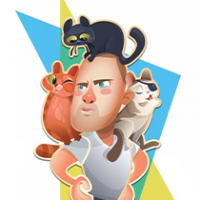 🐈️🏡 New to the Community? Register here in just 2 seconds.
Welcome to our Petopia Community!
Petopia is a new city builder feature in Pet Rescue Saga that will be tested in the game 20 September to 18 October 2021.
If you need help with the feature, how to play or build your city, please check our Support page HERE.
Share your city!
We want to see all cool Petopia cities that you built and constructed.
How have you placed your houses, trees, parks and attractions? How much have you managed to get your city to grow? What special buildings have you got?
Post a pic of your city to share your Petopia to receive this petriffic Petopia badge:
We will also randomly pick ten players who posted a screenshot of their Petopia cities when the event has ended. The ten players will then win 30 Gold Bars each to their games.
Posting several screenshots of your city that is growing and progressing will increase your chances to win. So please feel free to post a new screenshot of your new buildings during the weeks!
To post, comment and to participate, make sure to have a Community account first by creating one here (it takes only a few seconds).
Are you enjoying Petopia?
Please feel free to post any thoughts and feedback about the feature here as well.
What do you like about Petopia? Something you would like to change or add to it?
We will pass on your feedback to the Game Team behind the feature.
If you need any help or don't have the feature in your game, then head over to our our page HERE.
Find all Furry & Purry threads and topics in Pet Rescue Saga HERE.
🐈️🏡 New to the Community? Register here in just 2 seconds.
You have until Monday 18 October 12:00 CET/ 06:00 EST to participate and you'll find terms and conditions here.
Comments